Keurig Coffee Makers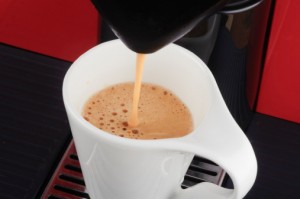 Sandia Office Supply is proud to be a Keurig Authorized Dealer in Albuquerque, New Mexico. As far as office coffee machines go, their single cup coffee makers can't be beat!
Single Cup Coffee Makers
Derived from the Dutch word for "excellence," Keurig lives up to its name. Their single cup coffee makers enable you to brew the perfect cup in less than 60 seconds without having to deal with measuring coffee, handling filters or cleaning up. Excellence at its best!
For offices, this is a great solution to ensure that fresh coffee is available to your employees and clients at any time. And there are a variety of options to make a Keurig coffee maker ideal for your office, including:
Pour-over reservoir that can make up to 18 cups of coffee in one fill.
Direct-line plumbing that enables you to make cup after cup all day without having to refill.
Touch screen interface that's easy for anyone to use.
Size options that enable you to brew in a variety of amounts from one machine.
Coin changer that enables your machine to pay for itself.
Auto-off feature that helps you save money by turning the machine off when it's not in use.
To help you find the best office coffee machine for your business, our knowledgeable representatives will take the time to understand your unique needs and budget. We'll show you how you can save money by bundling your office coffee services with all of your breakroom supply orders.
Coffee Makers for Every Business
We carry a variety of single cup Keurig coffee makers to meet the needs of small and large offices alike. We also offer Keurig accessories over 80 flavors so you can keep your office stocked with the flavors your staff loves!
Don't think you're ready to purchase a single cup coffee maker? We are able to lease and rent equipment to meet your budgetary needs.
Call 505-341-4900 to order your office coffee equipment with Sandia Office Supply of Albuquerque, NM today!