Computer Chair Mats & Office Accessories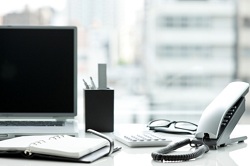 When it comes to chair mats and office accessories, you can count on Sandia Office Supply to have what you need—when you need it.
We understand that when you invest in chair mats and other office accessories, they need to last. As New Mexico's largest independently-owned office supply and furniture company, we are proud to provide you with products that are both durable and affordable.
Our chair mats are available in both standard and custom sizes. Just give us a call to talk to a knowledgeable representative about your needs. We'll make sure you get the right mat for the type of floor that you have and the space you have available.
No matter what your unique needs are, your personalized representative from Sandia Office Supply can walk you through the process of getting the best office supplies for your business.
Contact Sandia Office Supply: Your Local Albuquerque Office Supply and Furniture  Company
As your local Albuquerque office supply company, we are your one-stop-shop for the most product offerings in New Mexico. We're committed to helping you save money on daily consumables and larger office accessories such as desktop organizers and ergonomic office furniture. Contact the local Albuquerque team at Sandia Office Supply to set up an account today.
Call 505-341-4900 to order your computer chair mats and office accessories with Sandia Office Supply today!