Printer & Copier Supplies
At Sandia Office Supply we understand that some offices have modern equipment while others make use of older technologies. Our printer and copier supply inventory has what your office needs to prolong your printer's or copier's life and keep your machines fully stocked.
Extensive Printer Supply
Sandia Office Supply has a huge inventory of inkjet cartridges and laser printer toner cartridges for nearly all major manufacturers, including:
HP
Epson
Brother
Canon
Lexmark
OKI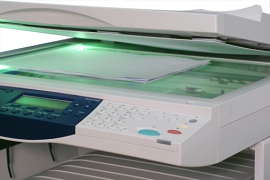 We also offer quality remanufactured cartridges by Elite Image. But our printer supply inventory isn't limited to ink and toner. We carry all consumables you need to keep your office document production uninterrupted—paper, maintenance kits and replacement components. We even carry accessories for older label makers and dot matrix printers.
Complete Copier Supply
Sandia Office Supply also has a full copier supply inventory. We carry copier toner cartridges from all major manufacturers and quality remanufactured copier toner cartridges from Elite Image. We have a number of paper products to prevent jams and achieve the copy quality you need.
We also carry items that may help you extend the life of your copier and maintain print quality:
Developer units
Drums
Fuser agents and lubes
Our replacement components are from original manufacturers. However, we do recommend that you check whether a licensed service person needs to install them to maintain the manufacturer warranty.
Contact Sandia Office Supply
Sandia Office Supply is so much more than your source for printer supply and copier supply items. We carry everything from breakroom provisions to janitorial items to office furniture.
But what really sets us apart is our service. Sandia Office Supply provides our customers with:
Personalized customer service
Easy online or barcode scanner ordering
Free next-day delivery with no minimum order
And much more!
Open an account with Sandia Office Supply and experience the benefits of working with a local Albuquerque office supply store.
Call 505-341-4900 to order your copier toner cartridges from Sandia Office Supply of New Mexico today!