Albuquerque Office Tables & Office Furniture Supply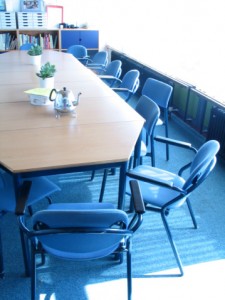 Choosing the right office tables for your space is much more involved than picking a table you like in a catalog and ordering it. To ensure the table is going to meet the demands of its intended purpose and provide years of faithful service, it's important to work with experienced professionals.
At Sandia Office Supply, we offer the following services to make sure you get the best office furniture and tables for your needs:
Large Selection
We work with over 100 different furniture manufacturers and are New Mexico's only HON Showcase Dealer.
We carry:
Our large selection ensures we can help you find something suitable for your function, aesthetic and budget.
Personalized Assistance
We have experienced furniture representatives who are dedicated to helping you get the best value. They'll help guide you through product selection by discussing important information such as:
Size of the room
Necessary seating
Type of chairs to be used, if any (arms/no arms, casters/no casters)
Intended use (singular purpose/multi-purpose, utility)
Aesthetic
Best material and finish for use and aesthetic
Budget
Because we take the time to understand your business, we are able to help you select office furniture and tables that will be conducive to productivity, enhance efficiency and help project your corporate image.
Our personalized service is included with every purchase at no extra charge to you.
Competitive Pricing
Getting quality office tables can be expensive. It's an investment that needs to provide a strong return for many years. We offer competitive pricing on all of our products and work with you to find the best fit for your budget.
Reliable Delivery and Installation
Office furniture delivery and installation is available for all orders. Just let us know your needs and we'll make sure your space is fully functional before we leave!
Contact Sandia Office Supply for all of your Office Supply and Furniture Needs
From the boardroom to the breakroom and everything in between, Sandia Office Supply is your trusted partner for comprehensive office furniture and supply solutions. Located in Albuquerque, we are New Mexico's largest independently-owned office supply store—and we take great pride in offering tremendous value to our clients with superior customer service. Contact us to learn more about Sandia Office Supply today!
Call 505-341-4900 to order your office tables from Sandia Office Supply of Albuquerque, NM today!